EN-BG/3000 Vacuum Exposure Unit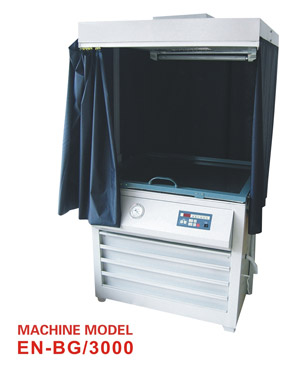 The EN-BG/3000 exposure unit adopt the design of top UV light source, it is suitable for the thin or midium thickness cliche plates exposure by single-side. The machine's automatic vacuum system and the exposure time controller ensure the presise exposre result.
Main Voltage

220V/50Hz

Power Rating

1.2kw (Light:1kw)

2.5kw (Light:2kw)

3.5kw (Light:3kw)

4.5kw (Light:4kw)

Machine Size

L850mmxW750mmxH1650mm

Max. Exposure Size

600mmx700mm

Cutomize

Special Voltage or exposure size can be cutomize to your needing.